Bet.co.za South Africa Review
Bet.co.za South Africa
100% up to R6000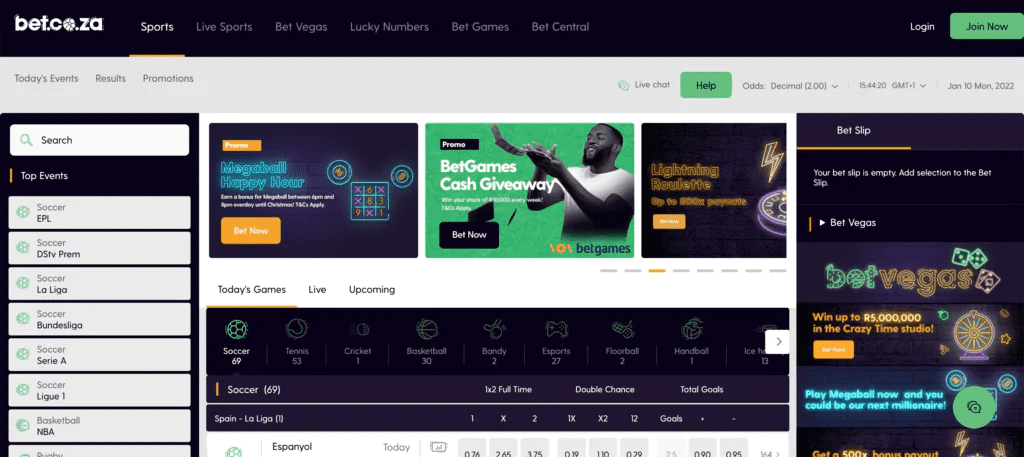 Established slightly more than a decade ago in 2010, BET.co.za is one of South Africa's more established and experienced online bookmakers. This sportsbook is currently home to plenty of bettors across the country.
This bookmaker is registered to a firm by the name of BETcoza Online (RF) (Pty) Limited and undertakes its operations in accordance to its Western Cape Gambling and Racing Board License, so you can be assured that it's 100% legit.
BET. Co.za is one of South Africa's foremost online sportsbooks which is highly respected among punters and their competitors alike.
With a mandate aimed at making betting as easy as possible for their customers, Betcoza latest platform upgrade is a huge move in that direction. Over the last decade, BET. Co.za has gone ahead to simplify betting from sign-up all the way to withdrawals.
BET.co.za says in its bold mission statement that it wants to make the process of online sports betting as simple as possible. That's the very aspect from its simple registration process that takes a few minutes, making deposits, placing bets and withdrawing winnings.
This bookmaker also aims to thrill its customers by offering them a range of bet types such as singles, spreads and multiples all with the promise of amazing odds.
This is an in-depth review of BET.co.za where we take an honest look of this South African bookmaker to help you decide if you want them in your online sports betting arsenal.
Learn how to get started at BET. Co.za plus answers to all your questions regarding bonuses, promos, betting markets and much more.
Quality of the platform and website usability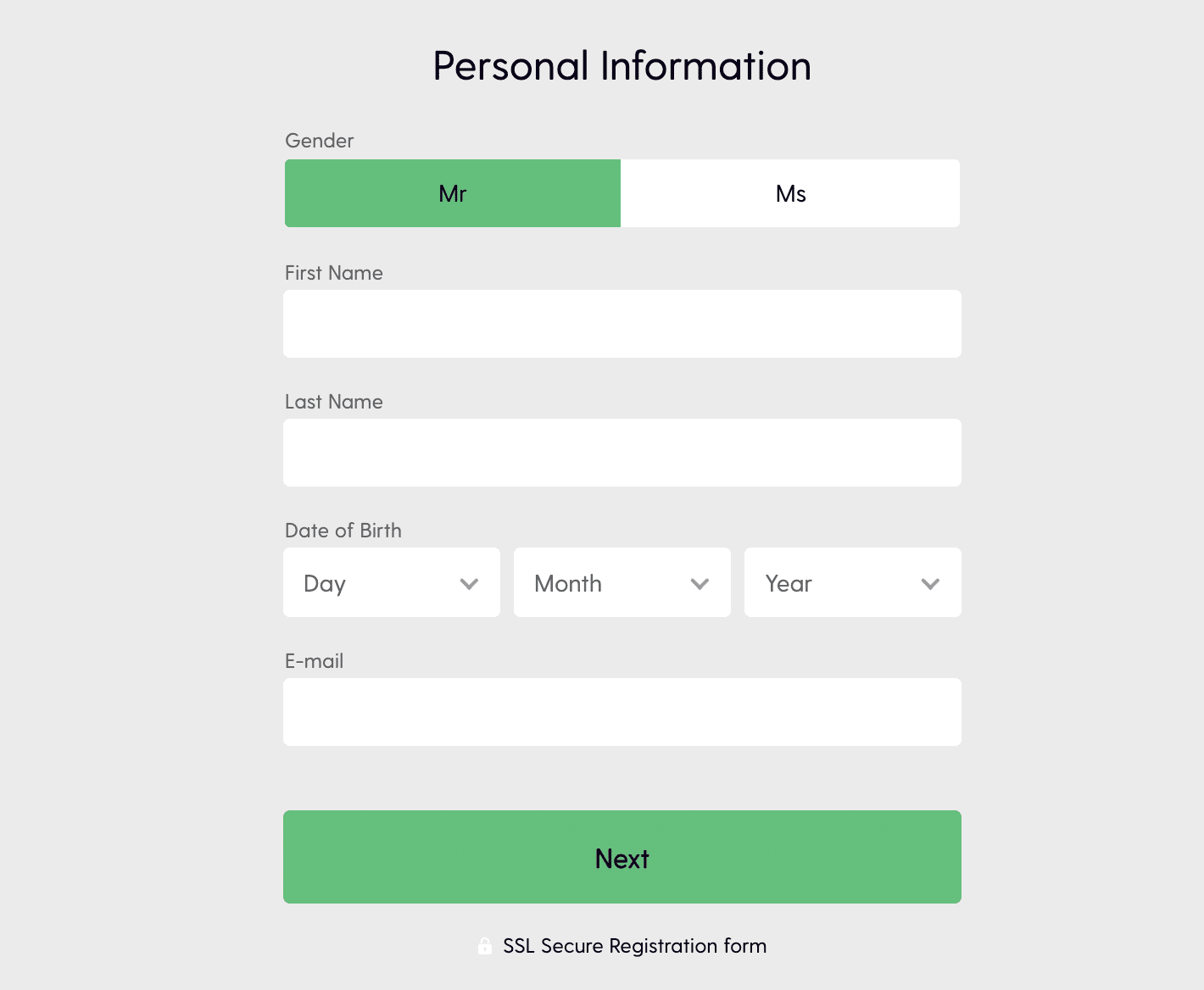 With the introduction of the SBTech platform, the BET.co.za site was fully revamped and now provides customers with an excellent online sports betting experience.
SBTech is a local firm based in Cape Town, so it understands the importance of website usability. This bookie understand that their customers want to find what they are looking for within the shortest time possible.
The design of the pages at BET.co.za is set up to appeal to both desktop and mobile users. It offers a simple and clean site structure that makes it highly user-friendly for experienced players and total beginners alike.
The homepage at Betcoza contains an index of the current top events followed by a menu with all the available sports betting action.
Based on our review, we established that navigation around BET.co.za website has been made easy by their big colorful buttons and logical, well-placed menus. By doing away with all but the necessary elements, BET.co.za site is a pleasure to use regardless of your online sports betting preferences.
The sports categories at this sportsbook use a drop-down system that lists separate events, matches and leagues which makes navigation to the market that you want fast and effortless.
This bookmaker also has in place a search button, something that makes betting on this platform fast and easy. In short, BET.co .za is a straight to the point online sports betting site. There's nothing exceptionally flashy about this platform and it mostly focuses on what their customers want.
Games available and betting options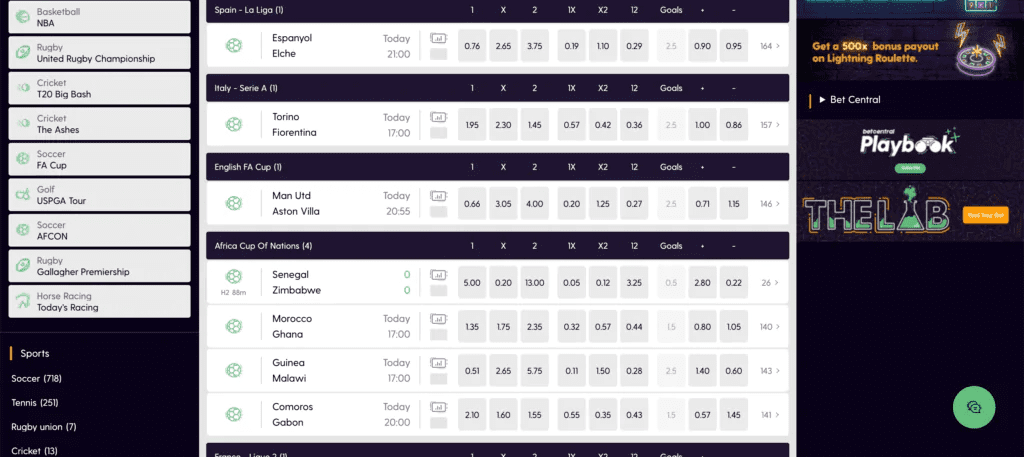 South African bettors can expect to find well-rounded sports betting offer at BET.co.za. In fact, there are over 100 sporting events to bet on every single day at BET.co.za. Of course, the most popular sport in the country, football is extensively covered. Players can count on a number of different markets that are available at BET.co.za.ù
Besides the traditional ones, you should also be able to place bets on several handicaps in addition to other alternative markets.
Plenty of bettors here place bets on the South African Premier Division, the Premier League, Serie A, Bundesliga, and the Champions League. The coverage of lesser popular leagues at BET.co.za is also decent.
Besides soccer, bettors can also count on extensive offer of horse racing, cricket, rugby, handball, and volleyball. Others include American sports, swimming, snooker, cycling and even darts. Those bettors who aren't into mainstream sports as such can always find something to wager on at BET.co.za.
We managed to explore the odds at BET.co.za and compared them to other bookies on the South African market. We did establish that this bookmaker has fairly competitive odds from what we've seen, and it provides a solid offering to its customers. Regardless of whether you prefer pre-match or live betting, rest assured of good value odds at BET.co.za.
Talking of live betting, bettors have a chance of place their live bets at BET.co.za on several sports and over 100 events each day. Betcoza  also allows its customers to watch selected events live.
Of importance to note, though, is that the live streaming service offers just a few soccer matches daily, but it's better than nothing.
Do you wish to conclude your bet early and take some profit or minimize your losses before the match that you wager on is over? If so, you can do so by taking advantage of BET.co.za cash out offer. Unlike other South African bookies that lack the cash out option, such isn't the case at BET.co.za.
Bonuses & promotions

As a new customer at BET.co.za, you can get your first deposit matched up to R1, 000. Of course, you need to note that the specific rollover requirement does apply to this offer.
You'll need to make a 6x rollover requirement of the BET.co.za bonus amount before you can be able to withdraw. It's a very straightforward process to opt-in for this promotion, as you only require to accept the pop-up after making the initial deposit. The minimum deposit for triggering the BET.co.za welcome bonus is R50.
The wagering requirements also include the minimum odds for certain bets. If your preference lies on wagering on singles, then the wager must be at the odds of 1.70 or higher. If you are about to bet on parlays, then the total odds must be at least 2.20, while each leg should be at 1.20 or higher.
Besides the welcome offer that's available at BET.co.za, you can find several other promotions for existing customers. For instance, you can take advantage of Best Odds Guaranteed or Done By A Donkey promotion if your preference lies in horse racing.
Do you prefer wagering on rugby? If so, then 'Cap Back Promo' might interest you. Those that prefer accumulator bets can get some extra payouts at BET.co.za thanks to their multi bonus.
That's not all at BET.co.za. This operator has a Power Bet Bonus that can bring you some free bets, though it's only available for mobile users only. With the Power Bet Bonus, you can take at least R150 worth of Power Bets in a week and get a R50 Free Bet.
Mobile gaming
Do you prefer wagering while on the move? If the answer is yes, then BET.co.za mobile app is the right choice for you.
It's available for iOS and Android devices and can be downloaded straight from their website. In a blink of an eye, can make payments and place bets via their mobile app.
With an instant bet feature, you should just tap and hold to make you bet. As a bettor, you can also take advantage of the Blitz Bet tool that highlights the most popular markets.
The latest upgrades have made BET.co.za mobile application user-friendly. Its color scheme is delightful and attractive on the eye, and the modern design makes it attractive for every user.
You can also go ahead and tailor the BET.co.za app based on your preferences. Thanks to the customizable menu, as a bettor, you can make your preferred markets accessible in just a single tap. If you choose to give BET.co.za mobile app a chance, you should be delighted with it.
On the other hand, the sportsbook is accessible via mobile browsers too. If for some reason you don't intend at installing the app, you can still wager while on the move. BET.co.za's mobile site is fully responsive and adaptable to all screen sizes. It does not lack any functionality that's present on the desktop version, meaning that you will not miss anything.
Payment Options
BET.co.za provides its customers with several safe and secure options of making their deposits and withdrawing their winnings.
You can top up your account using debit and credit cards, vouchers, in-bank transfers, Apple Pay, and Masterpass to mention but a few. You don't necessarily need to have a bank account to make deposits or requests withdrawals from your betting account.
The money gets loaded to your betting account instantly the moment the transaction is initiated, and you can begin placing your wagers without any delays. You will have the same number of withdrawal methods the moment you want to pick up your winnings.
It's very convenient since you can use the same options for making both types of transactions. Of importance to note is that it takes around one or two days to have the funds at your disposal.
In some cases, though, the funds might be available in less than 24 hours after the withdrawal is initiated. Something else ideal here is that this operator doesn't charge any withdrawal fees, and you can enjoy the full amount of what you win.
Customer support
If you come across any issue or problem at BET.co.za, you have multiple channels for contacting their support reps for help. If you need immediate assistance, the most convenient option that you may want to consider is the live chat.
BET.co.za live chat option is easily accessible on their website, and a well-trained operator should be able to engage with you in a professional manner, mostly in English.
For some in-depth issues or queries, you can send the support reps at BET.co.za an email or reach them via phone. Their telephone line is available from 9:00 to 17:00 every day.
Another convenient way of getting assistance from BET.co.za's customer support reps is by dropping them a message via WhatsApp.
In any case, BET.co.za's professional staff will provide adequate services and help you resolve any issue that you may have. If you have social media accounts, you can also reach their support reps there. They are available on Facebook and Twitter.
Safety and reliability
BET.co.za is a legitimate bookmaker as it undertakes its operations under the West Cape Gambling and Racing Board license. In other words, it guarantees that you can count on honest services from them.
Apart from that, their website handles sensitive customer data, but you have no reason to worry regarding the safety of your personal or financial information.
The SSL certificate ensures an encrypted connection to the website means that your information is securely transferred through the web.
It gets even better at BET.co.za. This operator uses the electronic Know Your Customer system. As a player, you can use this system to send your private information for verification.
You should be able to complete this step as the government aims to do away with cases of crime and money laundering. Additionally, you can set up additional security measures at BET.co.za, such as firewalls.
Verdict
BET.co.za is one of those bookmakers that have drastically improved their services lately, from their beautiful website design to the diversity of markets and sports that they offer.
They have made everything to do with online sports betting more enjoyable and fun for South African bettors, and that's the reason as to why they are among the best bookmakers in the country.
Regardless of whether you are a newbie in sports betting or a seasoned player, you should enhance your BET.co.za online sports betting experience.
Screenshots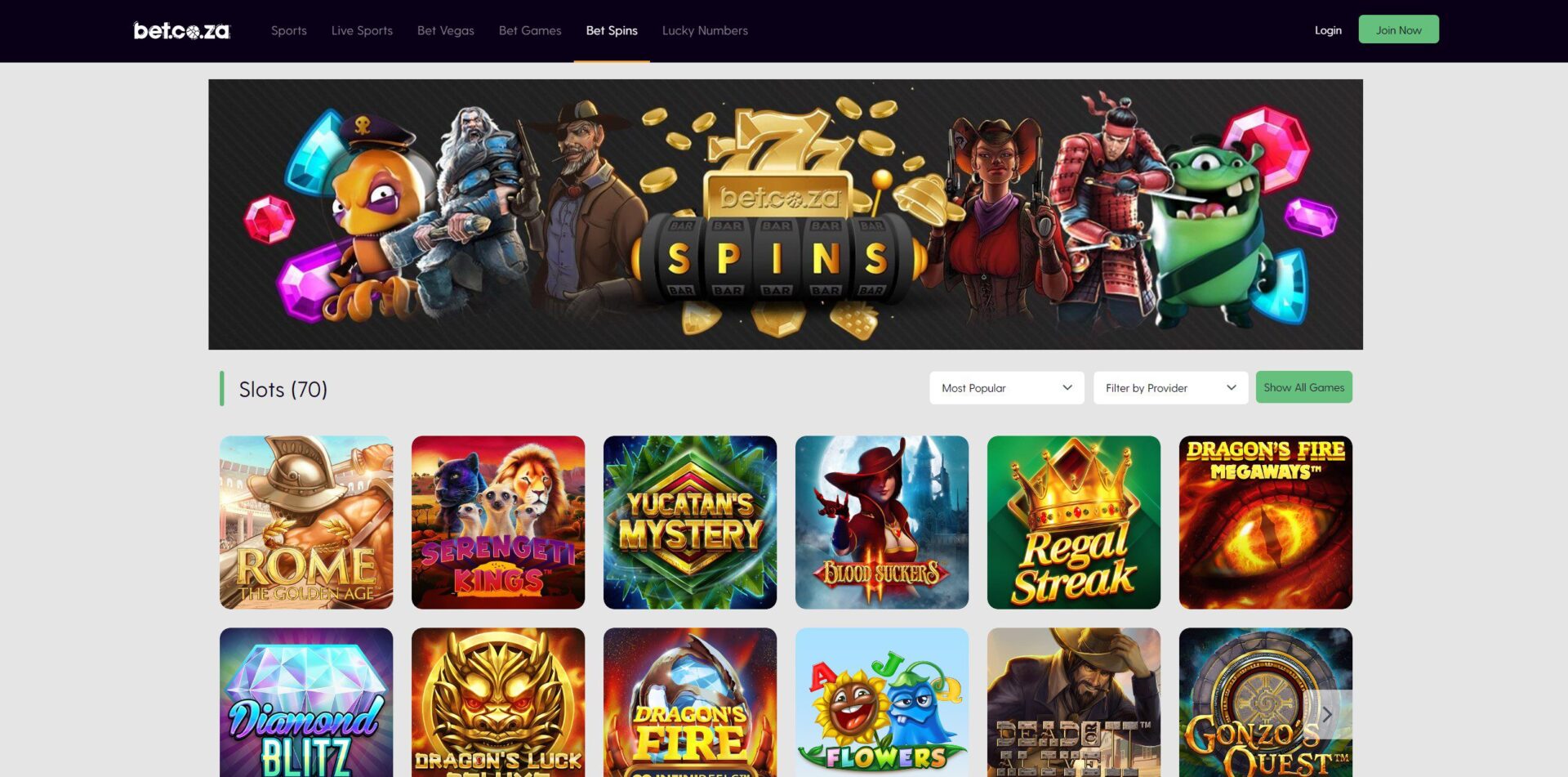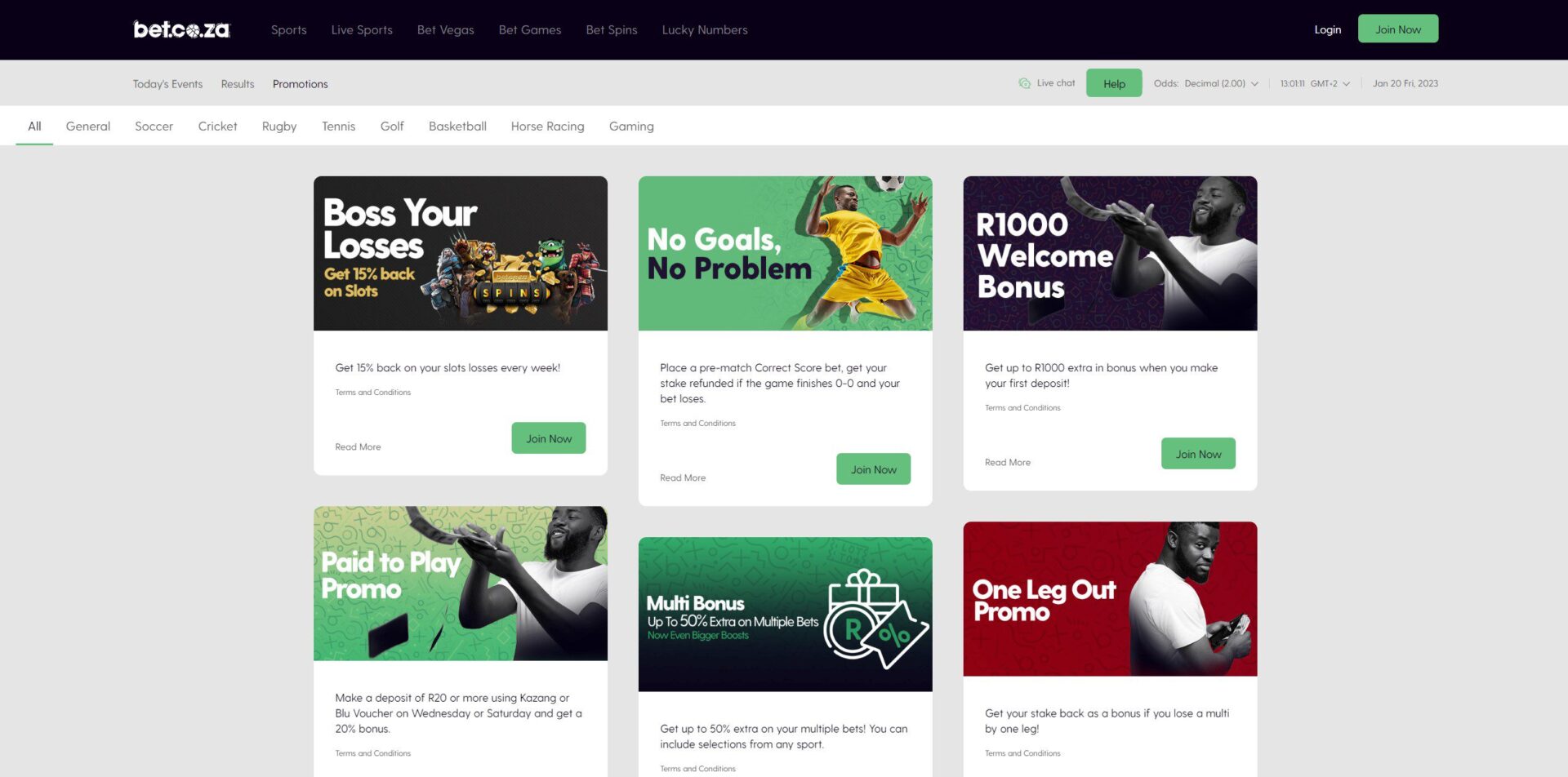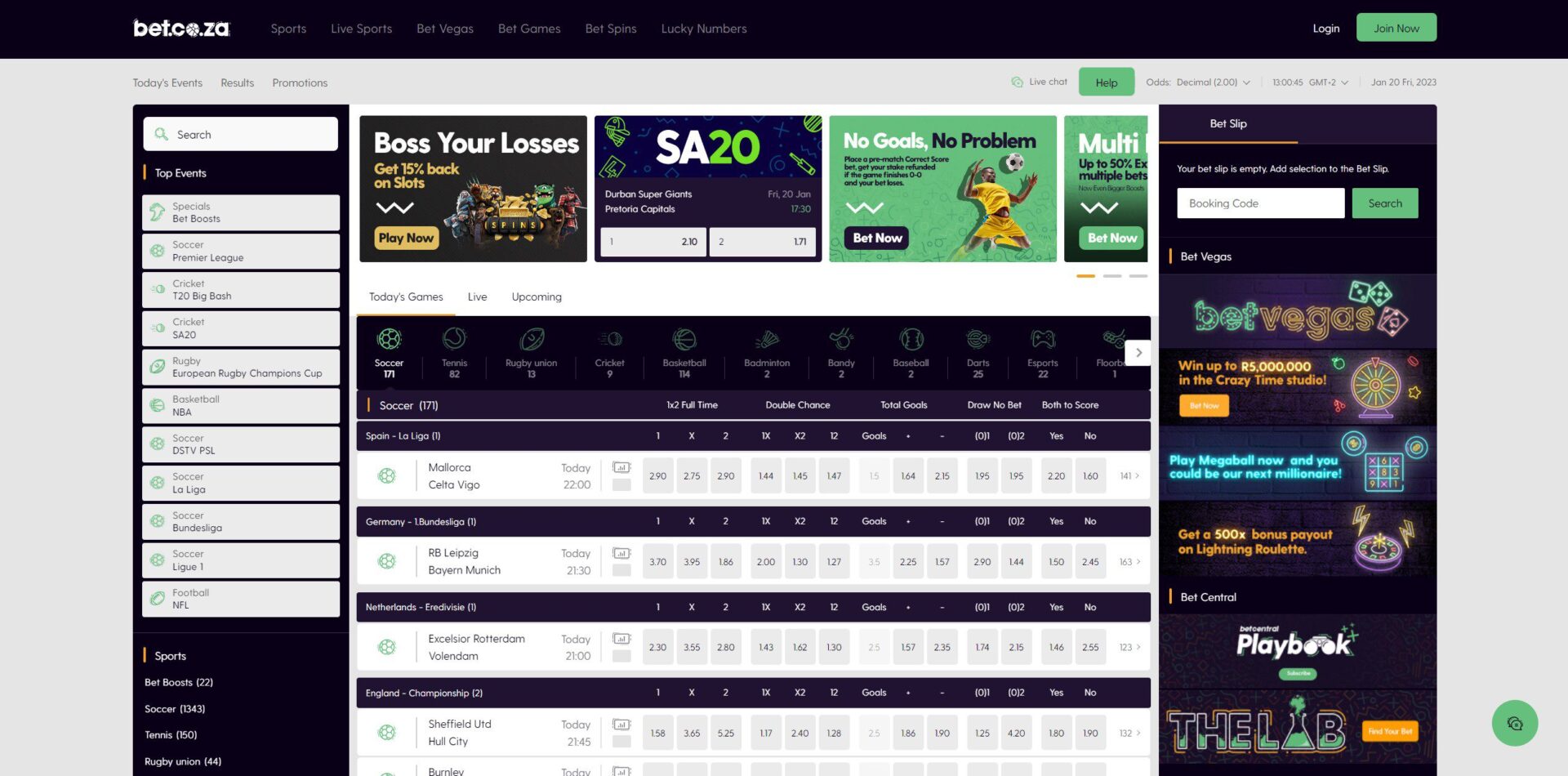 About the author

The creator of this project is not just another writer but he is, first and foremost, a passionate online gaming player. His attention to detail means he spends hours studying and trying out innovative new techniques in order to write content that is engaging and truly informative for the users of this blog. When he's not writing, you can find him in Macau and Las Vegas, with sunglasses and the ever-present cigar.
Todays Offer

4.9/5
Welcome Offer
100% up to R6000
Bet.co.za South Africa Highlights
No highlights are registered
Short Summary
Established slightly more than a decade ago in 2010, BET.co.za is one of South Africa's more established and experienced online bookmakers. This sportsbook is currently home to plenty of bettors across the country. This bookmaker is registered to a firm by the name of BETcoza Online (RF) (Pty) Limited and undertakes its operations in accordance to its...

Visit Website