Hollywoodbets South Africa Review
Hollywoodbets South Africa
R25 Sign Up Bonus
Arguably one of the most popular and well-known online sportsbooks in South Africa, HollywoodBets operates as the country's biggest betting site. It helps that the brand has several retail operations in effect across the country, which are also popular with bettors. Doubtless, this has helped the brand become a prominent online site. HollywoodBets has 20 years of experience in South Africa, provides a great focus on horse racing betting, and incorporates a variety of promotions and special offers.
Overview of HollywoodBets South Africa
It's always ideal to know more about an online sports betting site before you join it. That's why we have put together additional information on HollywoodBets for you below.
Introduction to HollywoodBets South Africa
You don't become the most popular and well-known sportsbook in a country without having a variety of top-quality features. HollywoodBets has continued to provide excellent betting markets and odds for gamblers within South Africa, ever since it began operating in 2000. Its operator knew it would grab people's attention when naming it after the legendary racetrack in Los Angeles – Hollywood Park. The primary focus for the site was on horse racing events as well, before it branched out into other areas.
Today, it remains active in the horse racing betting scene in quite a prominent way. Yet it has also added extra sports to its collection. HollywoodBets owns licences from various areas, including the Western Cape, Gauteng, Limpopo, and Mpumalanga, ensuring that it provides a safe, fair and secure service to gamblers in South Africa. Combining this with the fact that it promotes responsible gambling to players has helped earn it a stellar reputation with bettors in the country.
Key Features and Services
When you visit the HollywoodBets online site, you will get to see a nice selection of betting options. Horse racing wagering remains a key focus, being at the top of the menu on the left-hand side. Yet there is also the chance to bet on soccer at the sportsbook. HollywoodBets sports betting also include tennis, rugby, cricket, golf, and more. This means that there is always plenty of options available to wager on.
Each sport also comes with a strong selection of markets associated with it. One of the other prime reasons that HollywoodBets stands out as a top sportsbook in South Africa is the competitive nature of its odds. As a player at the site, you know that you're always getting the best price possible for the markets you're intending to bet on. We highlighted the promise of exciting online promotions at the sportsbook earlier as well.
It is prominent to highlight the fact that with horse racing, you can live stream the events via HollywoodBets. This takes you to Gallop TV, where a selection of live streams are available. Live betting is something else provided by the sportsbook, offering the chance to wager on games and events currently taking place.
Betting on HollywoodBets South Africa
The reason we join an online sportsbook is to placed wagers on our favourite sports, right? Well, in this HollywoodBets review, we're going to look at the betting options available at the site. This way, you can compare it with other South African sportsbook availabilities to see if it suitable for your preferences.
Sports and Markets
You will always get a top-quality experience as a bettor at this site. One of the reasons for this is the number of sports and associated markets on offer. It may be true that horse racing betting was the first option available at HollywoodBets, but today, it has so much more on offer. We also noted soccer betting earlier on, but there are various others sports to wager on at the site too, including:
Tennis
Rugby
Cricket
Golf
Ice Hockey
MMA
Basketball
Motorsport
Handball
Snooker
Table Tennis
Baseball
Cycling
Darts
Futsal
Netball
Volleyball
American Football
Aussie Rules
Badminton
Boxing
It is also key to note that HollywoodBets allows you to place bets on eSoccer. So, while it doesn't provide standard eSports betting to punters, it does offer the opportunity to gamble on virtual soccer matches.
When it comes to the different gambling opportunities, the site has a 'Sport Exotics' section to visit as well. There, you will find unique bets that you can get involved in for specific events.
Placing Bets and Bet Types
Placing bets at the sportsbook is a simple enough process. After you sign up for an account and make a deposit, you navigate to the betting lobby. Down the left-hand side, you'll see the various sports. Click on one of them and you will see additional options relating to specific leagues and tournaments. Let's say you want to bet on an English Premier League soccer game. You would select 'Soccer' and then 'England' from the options. After that, you choose 'Premier League', and this displays all the upcoming games from the league that you can bet on.
Using the 'More' button at the right-hand side of a particular game will show you all available markets for that event. Clicking on a game between Arsenal and Nottingham will display popular markets first and then all the options divided into specific categories. This includes '1st Half', 'Combos', 'Scoring' and 'Totals', amongst others.
Let's say that you believe that the match noted above will feature at least two goals being scored by Arsenal. You can find the 'Over/Under' market in 'Totals', and you would need to choose the 'Over 1.5' market from the 'Totals Home Team' options to bet on this being the case. Selecting that will then display the betting slip on the right of the screen. You can then enter a stake into the relevant box, which will calculate the potential payout for you if the wager is a successful one. If you're happy with that, you can confirm the wager to complete the process.
Different sports come with different betting markets, although you can often find options like Outright, Both Teams to Score, Over/Under, Double Chance, Half Time, Full Time, Correct Score, and more on hand at HollywoodBets.
Promotions and Bonuses
It is not uncommon for online sportsbooks to provide exciting bonus offers to their players. Once you open an account and make a deposit with a supported payment method, you will usually qualify for such. You can find out more about these promotions below.
Welcome Bonus
At HollywoodBets, there is a no deposit bonus available, which only requires you to sign up for an account online or via a mobile device. It is at this point that you will receive R25 for free to use how you like. At the same time, the site provides 50 free spins to use on one of five specified slot machine games. You cannot withdraw the R25 from your account until the funds have been wagered and turned over in full at odds of 5/10 (0.5) or greater. The bonus must also be used within 24 hours of registering for an account. From this free bonus, you can only withdraw a maximum of R1,200.
Ongoing Promotions
If you visit the HollywoodBets Promotions section at the sportsbook, you will see all the ongoing offers available to claim. Many of these cater more specifically to casino gamers, although a few for sports bettors do also exist. Some of them place a focus on specific sporting events, such as The Ashes in cricket and the women's soccer World Cup. Those promotions only run while those events are taking place.
Other offers are more permanent, such as the referral bonus for bringing your friends to HollywoodBets. This provides you with R50 for free once they sign up and make a deposit.
There is also a Soccer Money Back reward, which can award you with up to 10 times your stake back. This is available should your final selection in a soccer accumulator fail. When eight markets are included in the multiple, you can win double your stake back up to R1,000. With 11+ markets, you can win five times your stake back up to R2,000, and when there is 15+ markets included, you win 10 times your stake back, up to R,5000.
Speaking of multiples, you can benefit from the Soccer Bonus Bonanza. This provides you with percentage bonuses depending upon the number of legs in your accumulator.
Then there is also the Irish Objection Promotion, relating to horse racing. If you back a horse on a straight win bet that is objected against and the race goes to another runner, HollywoodBets refunds your stake in full with this offer.
Security and Support
It is important that you feel comfortable and secure in the environment you are betting in. That's why it's vital to know what sort of security systems are in place at HollywoodBets. Furthermore, if you ever need help, then a support team should be available whenever required. Find out more about these features below.
Security Measures
HollywoodBets makes sports betting in South Africa a simple affair. It offers the best in sports betting and horse racing betting, featuring a mass of events. To ensure that you are gambling in a protected and fair environment, the site utilises top-quality SSL technology. This not only keeps all your personal information safe and stored out of the view of third parties, but it assists in protecting your funds as well. Any transactions taking place at HollywoodBets will always occur in encrypted format, so that you know this money isn't likely to go astray while transferring.
The sportsbook is also licensed by various locations across South Africa. This sets out a plethora of rules for the platform to follow, ensuring you experience a protected, secure, and fair online site. HollywoodBets adheres to those regulatory standards set out for it, and it proudly displays its licences at the bottom of the website. It is also in that location that you will find details of its responsible gambling policies. Links to organisations helping with this are also present.
Customer Support
If a time comes when you should need help as a bettor at HollywoodBets, then you will find several options are available. The website offers guidance to anyone wanting to know more about how to register, how to bet and how to make a deposit. There is also a terms and conditions section, which provides various insightful pieces of information. At the very top of the website is the link 'Contact Us'. This displays various methods of reaching out to the site's customer support team. Both a telephone number and an email address are provided there.
Further methods of speaking to the team are through the Twitter, Instagram, and Facebook social media platforms. There is also a postal address provided if you want to write directly to them via mail.
Conclusion
HollywoodBets stands out as the best and most popular online sportsbook in South Africa. It has been in operation for more than 20 years, offers various sports and markets to bet on, and features exciting promotions to claim. If you want to find out more about the sportsbook, you can always visit it yourself for free. Browse through the different sections to see everything on offer. If you think it looks like the betting site for you, you can sign up easily, make use of the no deposit bonus and then set about placing wagers. We wish you a safe and enjoyable betting experience at the HollywoodBets online sportsbook.
Screenshots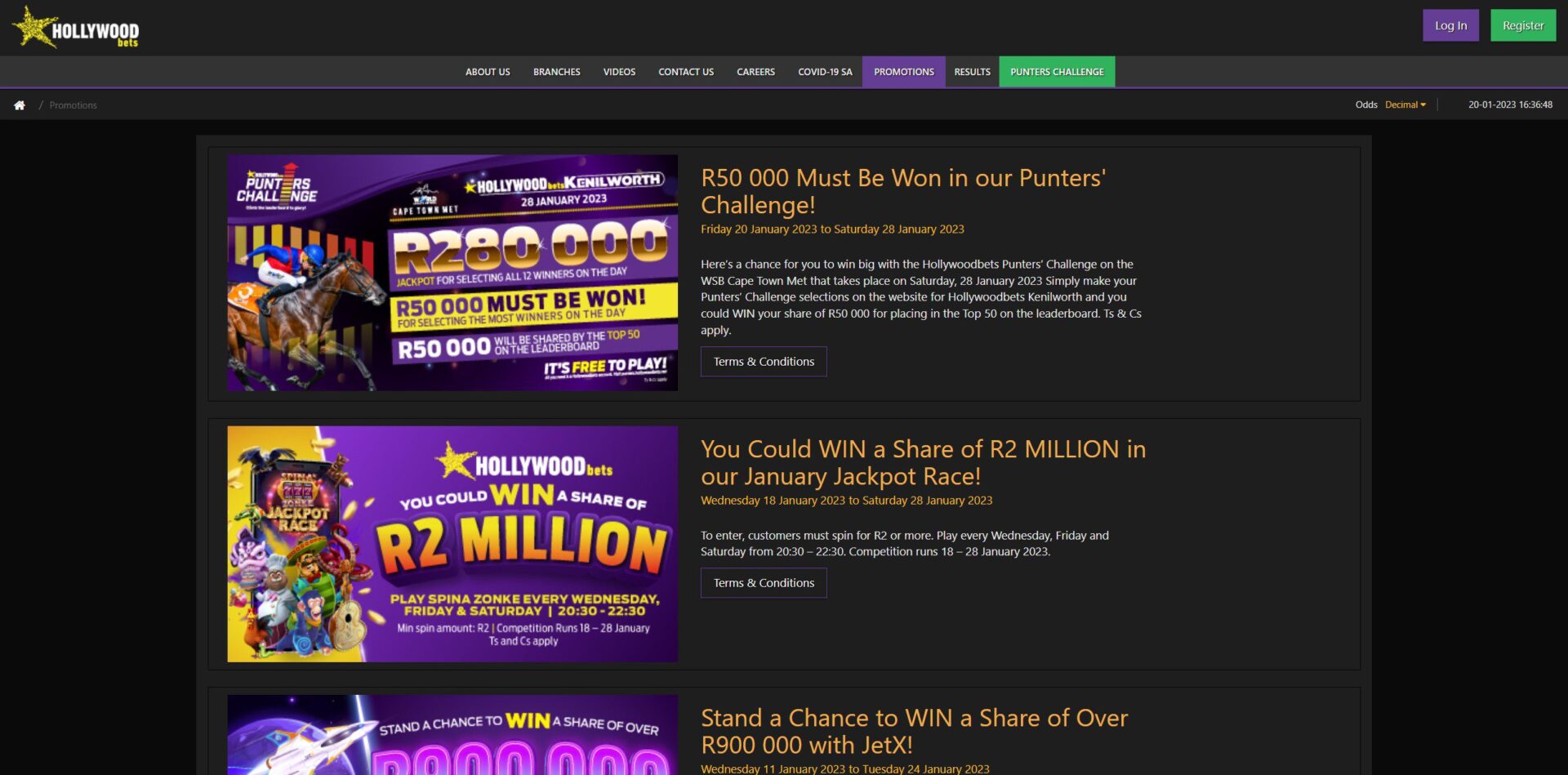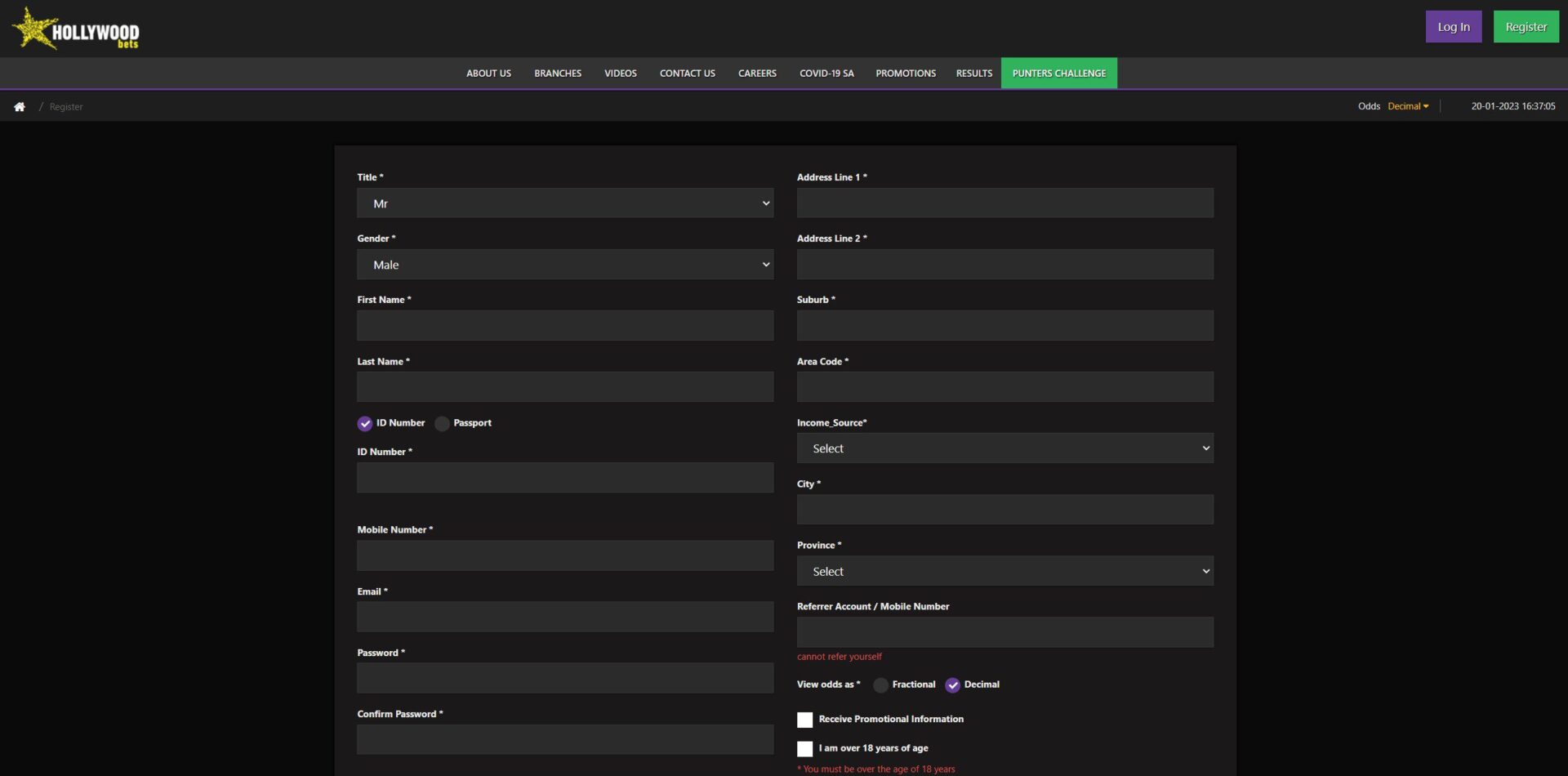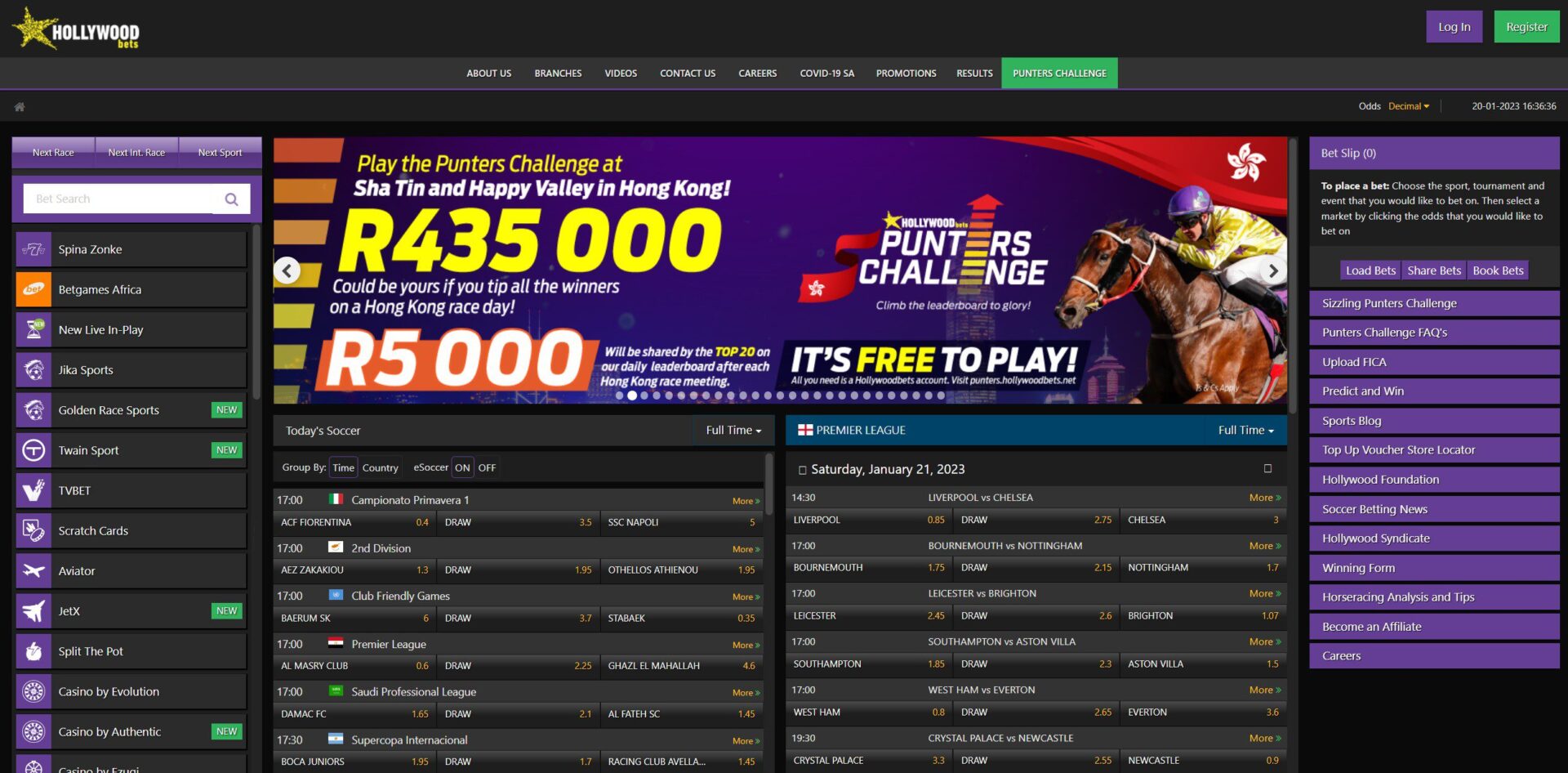 About the author

The creator of this project is not just another writer but he is, first and foremost, a passionate online gaming player. His attention to detail means he spends hours studying and trying out innovative new techniques in order to write content that is engaging and truly informative for the users of this blog. When he's not writing, you can find him in Macau and Las Vegas, with sunglasses and the ever-present cigar.
Todays Offer

0.3/5
Welcome Offer
R25 Sign Up Bonus
Hollywoodbets South Africa Highlights
No highlights are registered
Short Summary
Arguably one of the most popular and well-known online sportsbooks in South Africa, HollywoodBets operates as the country's biggest betting site. It helps that the brand has several retail operations in effect across the country, which are also popular with bettors. Doubtless, this has helped the brand become a prominent online site. HollywoodBets has 20...

Visit Website